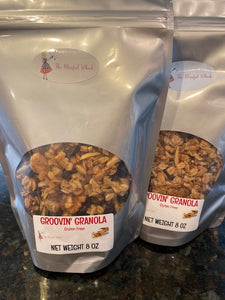 Our classic gluten-free Groovin' Granola! This is where this crazy fun adventure began. 
All of our granolas are made with certified gluten-free oats and sweetened with organic maple syrup so they are lightly sweet. Please enjoy, it makes our hearts happy!
CERTIFIED GLUTEN-FREE ORGANIC ROLLED OATS, ORGANIC MAPLE SYRUP, ORGANIC RAISINS, DRIED CRANBERRIES, ALMONDS, SUNFLOWER SEEDS, ORGANIC COCONUT OIL, WALNUTS, ORGANIC PUMPKIN SEEDS, ORGANIC UNSWEETENED COCONUT, REAL VANILLA EXTRACT, SEA SALT, CINNAMON, ORGANIC NUTMEG.